Bálint Szombathy: Signs of the City and Telephotography
Opening 6.12. 2019 at 19h, Gallery Photon
9. 12. 2019 – 1. 2. 2020
Bálint Szombathy, a conceptual artist born in Vojvodina in the former Yugoslavia (1950), is one of the key names of the former Yugoslav as well as Hungarian art. His practice included a wide range of artistic activities, from visual poetry, processual art, land art and performance, to conceptual art. Quite early on, he drew attention to his performative projects, such as The Trails (Subotica, 1970), or the photo performance Bauhaus (Novi Sad, 1971), while becoming particularly renowned for addressing the topic of socialist reality in projects such as Lenin in Budapest (1972), when after the end of the May Day celebrations, he provocatively carried Lenin's portrait along the streets of the Hungarian capital. In 1969, he and Slavko Matković founded the Bosch + Bosch group, which represented a platform of neo-avant-garde artists from Vojvodina, Serbia, and Hungary. The group played a significant role in connecting with related movements and artists across Europe, particularly with its access to relevant information from the Western world. However, also within the group, Szombathy maintained the individual position of a "nomadic artist" who embodies the Beuys concept of "art as social sculpture", that is, the end result of the artistic practice is the artist himself, who manifests and self-realises himself as his own work of art.
Szombathy has been dealing with photography in a specific and authentic way since the late 1960s. In the first place, he photographically documented his performances and conceptual projects, such as the Flags project from 1971 or the project 36 Fixatives from 1973. While working as a graphic editor and designer at the daily newspaper Magyar Szó, he became interested in the anomalies that occurred in the telegraphic mode of transferring photographs. In this regard, he began to develop "telephotographs", black and white photographic works including interventions into the basic photograph, repetitive patterns, and micro structures, which may resemble the techniques of collage or montage and were presented in the exhibition projects Telephotography of the 1980s and Suprematists. Most of the projects and works that have been created as a result of Szombathy's interest in the photographic medium in the 1970s were presented in the Photoworks 1971−1981 exhibition at the Vintage Gallery in Budapest in 2010.
Bálint Szombathy has always been seekin….more here!
Family Album
Zuzana Pustaiová
The series Family Album (2013 – ongoing) is based on the artist's family archive. Pustaiová picks photographs from the archive and amends them with handicraft artefacts of the past and the present – lace, color stickers, matches, feathers, millimeter paper, with a sense of irony. The deliberately decorative character of the interventions and the context in which they are found constructs an intelligent commentary on the gender stereotypes of the typical Central European family. Pustaiová is not the only artist working with the photographic archive. However, where others express themselves with deadly seriousness, Pustaiová's style is easy, without the unnecessary oversimplification and distraction of the conceptual depth of the subject matter.
Branislav Štěpánek
Opening: 15.11.2019, 7 p.m
Exhibition: 16.11 – 04.12.2019

The Echo of Pix
Eine Ausstellung von Alessandra D'Intino
Fotografieren ist aus unserem Leben nicht mehr wegzudenken: Ich fotografiere, also bin ich. Täglich werden mehr Bilder gemacht und geteilt als frühere Generationen über Jahre oder ganze Lebzeiten produzierten. In "The Echo of Pix" taucht Alessandra D'Intino nun gezielt ein in dieses stetig wachsende Bildermeer und interessiert sich dabei für die Dynamiken, die entstehen, wenn Bilder erst einmal in das unendliche Universum des World Wide Webs gespeist sind.
Urheberrechte hin oder her, Privacy Settings hin oder her: das Zeitalter der Digitalisierung ist auch das Zeitalter von Copy And Paste, so dass Fotografien ohne Qualitätsverlust in den unvorhersehbarsten Zusammenhängen auftauchen und wiederverwertet werden. Diese unendliche Kopierbarkeit und inhärente Unkontrollierbarkeit der Bilder rückt D'Intino in den Fokus, indem sie ihrerseits Found Footage Collagen zusammenstellt, die in direktem Dialog zu Joan Fontcubertas berühmtem Wandmosaik "The World Begins With Every Kiss" treten.
Sie verweist so auf das Paradox, dass jede künstlerische Auseinandersetzung mit der heutigen Bilderflut immer auch zugleich ein Teil von derselben wird, sie nährt und sogar befeuern kann. "The Echo of Pix" ist folgerichtig sowohl Hommage als auch Selfie Wall. Fotografieren ist ausdrücklich erwünscht: #echoofpix.

Made in China: Successes And Failures
*Galerie Photon
Eröffnung am 16. Mai um 19h in der Photon Gallery.
Begleitende Performance What You Buy Is What You Get
16.5. – 28. 6. 2019
Die Ausstellung Made in China: Successes And Failures zeigt Werke zahlreicher zeitgenössischer und international renommierter bildender Künstler, die ihre Arbeiten als künstlerisches Multiple (oder "Auflagenobjekt") entworfen und geschaffen hatten. Das Kunstprojekt Made in China produziert mit ausgewählten Künstlern seit vielen Jahren künstlerische Multiples. Diese kleinen Kunstwerke oder seriell hergestellten Objekte zu erschwinglichen Preisen, die anderen Konsumgütern ähneln und sich zugleich von ihnen differenzieren, werden von den Projektentwicklern als ideales Medium für eine direkte Kommunikation der Künstler und der Kunst mit der modernen, konsumorientierten Gesellschaft und deren Individuum angesehen. Die Kunst, also künstlerische Mutiples bzw. ungewöhnliche Objekte als Produkte ungezügelter Vorstellungskraft, werden in eine Welt platziert, die mit mehr oder weniger einheitlichen und standardisierten Angeboten oder Verbrauchererlebnissen überflutet ist. Dort warten sie darauf, dass der Verbraucher während des Einkaufs dem Kunstobjekt Priorität einräumt und sich somit als Ausdruck einer bestimmten Attitüde für die Kunst entscheidet, anstatt sich mit der vorherrschenden Ideologie des uniformen Konsums zu identifizieren.
Neben künstlerischen Multiples werden in der Ausstellung auch vergangene Projekte von Made in China präsentiert, in denen das Made-in-China-Team künstlerische Multiples als Instrumente zur Schaffung von Performances, Veranstaltungen, Installationen und Ausstellungen in Galerien sowie Interventionen im öffentlichen Raum und in wirtschaftlich genutzten Räumen einsetzt. Die Kunstprojekte von Made in China reflektieren den Zustand der modernen Konsumgesellschaft und nehmen als realer und poetischer Eingriff in den gesellschaftlichen Alltag und den vorherrschenden, weitgehend standardisierten und der Profitlogik untergeordneten Diskurs, konkrete Form an.
Am Eröffnungstag findet in der Photon Gallery das performative Ereignis Made in China: What You Buy Is What You Get statt. Unter Aneignung der in der Konsumwelt vorherschenden Werbe- und Verkaufsstrategien wird der Verkauf als poetischer Akt, als sublimer Austausch von Waren und Dienstleistungen gegen Geld inszeniert und dient dem Aufbau einer Beziehung zwischen Verkäufer, Schaffenden und Käufer. Das Projekt Made in China sowie das Ausstellungsprojekt in der Photon Gallery und das begleitende performative Ereignis untersuchen praxisbezogen das kommunikative und diskursive Potenzial der Kunst sowie neue, effiziente Produktionsweisen und Strategien, wie man dem Publikum Kunst im Kontext der Zeit, in der wir leben, vermitteln kann.
Projektentwurf:
Viktor Bernik, Žiga Kariž, Jara Vogrič
Zusammenarbeit bei Performance: Dražen Dragojevič
Designer: Marko Damiš
Teilnehmende Künstler:
Jože Barši, Viktor Bernik, Gašper Kunšič, Colette Lumiere, Conny Blom, Vasja Cenčič, Lada Cerar, Jasmina Cibic, Ksenija Čerče, Vuk Čosić, Marko Damiš, Matej Andraž Vogrinčič, Boštjan Drinovec, Vadim Fiškin, Ištvan Išt Huzjan, Janez Janša, Janez Janša, Janez Janša, Žiga Kariž, Dalea Kovačec, Borut Krajnc, Zmago Lenardič, Laibach, Alen Ožbolt, Made in China, Steven Maybury, Arjan Pregl, Sašo Sedlaček, Nina Slejko, Blom, Small But Dangers, son:DA, Helena Tahir, Benedikt Terwiel, Veli&Amos, Jara Vogrič, Matej Andraž Vogrinčič, Sašo Vrabič
Die Fotoeditionen von der Photon Gallery ausgewählten Künstlern:
Anna Fabricius, Peter Koštrun, Marko Lipuš, Eva Petrič

Metka Zupanič: Re-Destruktion
*Galerie Photon
Vernissage: Freitag, 1. März 2019, um 19:00 Uhr
1. März – 20. März 2019
Das Ausstellungsprojekt Re-Destruktion initiierten Überlegungen zum immer wiederkehrenden Militarismus, insbesondere in Gedenken an die beiden großen Kriege, die das vergangene Jahrhundert prägten. Da die Weltmächte unaufhörlich miteinander wetteifern, wer "intelligentere" und stärkere Mordwaffen produzieren wird, erleben wir zur Zeit, trotz der beschwörenden Worte "nie wieder", immer neue Kriegsstrategien. Mittlerweile wurden lokale und regionale Kriege zur Medienkonstante und sorgen neben Wirtschafts- und Umweltproblemen auch in der heutigen Zeit für Beklemmung und Angst. Zupanič greift auf eine Reihe von dokumentarischen Fotografien zurück, nimmt ausgewählte Bilder aus bestehenden Kontexten heraus, verortet sie neu in einer minimalistischen schwarzweißen Welt und fügt sie mit Hilfe der Collage-Technik zu neuen bedeutungsvollen Kompositionen zusammen. Die Ausstellung präsentiert eine Reihe von Collagen, die sich mit alltäglicher Gewalt und zunehmender Militanz der modernen Welt befassen.
Metka Zupanič ist eine etablierte slowenische Künstlerin, die sich vor allem für aktuelle Themen der zeitgenössischen Gesellschaft interessiert. In früheren Projekten beschäftigte sie sich beispielsweise mit Angstgefühlen des Individuums in der heutigen illusorischen Freiheit (Anti – Global?, 2013), mit Geschichten der Arbeitsmigranten (Looking for a Better World, 2015) und Fragen zu allgegenwärtigen Kontrollsystemen (On Your Face, 2016). In den letzten Jahren ist vor allem die wiederkehrende obsessive Militanz (And Here We Are, 2017) Thema ihrer Arbeit.
Opening: 13. Dezember, 19h
Exhibition: 14. Dezember – 18. Januar 2019
SAFARI | Milica Mrvić
Safari is a photographic series inspired by the use of animal prints and imitations of animal skins and furs in everyday fashion. It questions the psychological background of the popularity of these prod- ucts, but also how is a seemingly trivial phenomenon like this acctually refflecting back our relation- ship to nature in present times.
Just like animals use their patterns, spots and colors of their skins and furs to merge with the envi- ronment in order to prolong their fleeting life for some time, humans mask every day in order to fit into social norms. However, clothes with wild animal patterns and designs are directly contrary to the norms and stereotypes for, unlike the gray and black garments, which are our most frequent clothing choices, tigers, leopards, snakes, are easy targets for the looks of the people around.
Animal prints, or better to say real animal skins and furs were something that was considered a status symbol in the tribal communities. It was a symbol of power, strength and experience of the ones wear- ing them, and often even, they evoked fear. Later on they became a symbol of prestige and elegance in haute couture. Today real animal skins are greatly substituted by various artificial, often cheap and accessible materials imitating them. This made it possibility for the majority to wear, and by wearing to feel, maybe exactly all the previously mentioned symbols, that were before reserved for the fortu- nate few.
What drives us to wrap up in the skin (imitation) of exotic and often dangerous animal species we maybe never even saw or know nothing or very little about? What kind of instincts and passions do certain animal patterns evoke in us? Can it be that this is a new way we humans show solidarity and belonging to the animal world in hope that we will find our forgotten roots in nature, we so much alienated from in the past century? Or, is it yet another way of endless human tendency to tame, con- quer and appropriate nature, until all what is left is a cheap synthetic imitation of it….
* No animals were harmed for the purposes of this project.
About the artist:
Milica Mrvić is a photographer and art director from Belgrade (Serbia). She studied on the Faculty of Applied Arts in Belgrade, and graduated in Photography, at the Applied Graphics Department. She is currently based in Budapest (Hungary).
Her work is a combination of rich colors, witt and quirkiness, inspired by the everyday life, popular culture, but also childhood imprints and memories.
Artist is present at the opening
29. November – 12. Dezember
PLACES OF POWER
Using the medium of photography my goal is to document spaces intentionally created and organized for ideological usage, places, that are functioning in the universe of values and ideas.I treat the space as it was a text that carries ideas and meaning. Therefore I try to create photos not only to be seen but also to be read from. The space is able to express a visual language that represents a certain symbolism, a history, an ideology and even its creators. The key to the selection was to choose organizations that already are or willing to be recognized by the public and intend to have an impact on the society. The project's interest is to discover the backstage or hinterland of these organizations. The project includes some of the major offices of political parties, Non Governmental Organisations and
institutionalized initiatives functioning in Poland.
I would like to raise the question of how the ideological domestication is being made; what is the current state of democracy; what is common, visible for a certain community; who is the subject, and who is an object of ideological narration.
KATARZYNA ZOLICH( born 1983 in Bielsko-Biała), PhD student at the Faculty of Fine Arts at the Pedagogical University in Krakow, graduated from the Academy of Photography (Krakow, 2014) and Cultural Studies at Jagiellonian University (2009).
Opening 29.Nov. 2018
Exhibition 30.Nov. – 12. Dec. 2018
Artist is present at the opening
Here you can read more about this great project. Asija Ismailovski and Eva Kovač (Art historians) did an interview with the artist. Read the whole story here!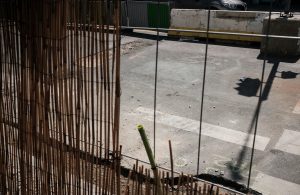 Solo Exhibition by Gabriel Orłowski (PL)
OBSTACLES
Opening: 15 November 2018, 7 p.m.
Exhibition: 16 – 28 November 2018
Small crevice has surfaced on the border. Looks like another anomaly, another event that shouldn't have happened. It's problematic. The border posts are dormant, appearing impossible to cross. Scene – embedded in silence, with no comment off stage. The machine – in its' focus – doesn't speak. Space is limited to a single frame. In such narrowed perspective, something always seems out of place. There's no way to get through and neither a way back. Momentum is off now. The balance of power is disturbed, latency and improbability become more obvious. An unexpected move – attack on reality, a knife to cut into the labour's schedule. Oxygen heats and expands, the pressure drops. There will be no order and the final project will never be achieved. Here no object hulks above the others.http://www.gabrielorlowski.com
Mit freundlicher Unterstützung des Polnischen Instituts
http://www.polnisches-institut.at

Solo exhibition by Rikard Laving (SWE)
Opening: 1 November 2018, 7 p.m
Artist talk at the opening at 8 p.m
Exhibition: 02 – 14 November 2018
During a manic period that followed a hard separation and a friend's sudden suicide, I did over 1,000 of photograms. The work made me think about time.
The photographic image depicts time, one-eighth of a second, sometimes more, sometimes less. Hence, what shows on the photo papers is time. There is an old paradox about time that I read long ago, and recounting from my memory it goes something like this:
Imagine time as the past, the present and the future. Then think about the present. How thick is it? It is the border between the past and the future.
The paradox is that the past does not exist. It has existed, but it no longer does. The future does not exist either, but it will. The present is nothing, a nothingness that separates what does not exist from what does not exist. But in the darkroom, the present unveils itself on a lightsensitive paper as it is hit by light. The present is visible there as a frozen imprint. That is how thick the now is, as thick as a photographic paper.
http://www.rikardlaving.com
W + ?
Olesya Kleymenova and Jelena Micić
Opening on 18. October, 7 pm.The collaborative installation by Olesya Kleymenova and Jelena Micić deals with the issue of (re)naming urban landscape. Parasiting imprints on the skin of the city appear in various coded communication forms. Existential marks of human presence ritualize living space haunted by the overwhelming fear of death. Spatial adaptations and interpretations reveal the intimate by creating alternative mappings and divisions.
http://www.jelenamicic.com
http://www.olesyakleymenova.com
all around me are familiar faces
Martina Menegon Solo Exhibition05 – 17 October 2018
Artist Talk: 16 October 2018"the awareness of the self is most significantly activated at the moments of disturbance of balance, in situations of perplexity and disorientation" – Ksenia FedorovaThe exhibition explores intimate and complex assemblages of physical and virtual elements that explore the contemporary self and its synthetic corporeality. Using the Virtual as an artistic medium and form of expression, Martina Menegon embraces digital artefacts and imperfections to create "broken" virtual version of herself, resulting in a sense of "intellectual uncertainty" and uncanniness. Like phantom limbs, Menegon's selves become perceivable self-representations, that can be sensed and felt despite their digital nature. The virtual become an augmentation of our actual world and our avatars an actualisation and an extension of the self.Martina Menegon will premiere her new Virtual Reality experience "all around me are familiar faces".Martina Menegon (Italy, 1988) is a multimedia artist working with Interactive, Digital and Virtual Reality Art. She is teaching at the University of Applied Arts in Vienna and at the Art University in Linz and regularly collaborates with Klaus Obermaier and Stefano D'Alessio, teaching multimedia tools for interactive arts and creating interactive performances and installations.
She currently lives and works in Vienna, Austria.
http://www.martinamenegon.com
https://www.radiancevr.co/artists/martina-menegon/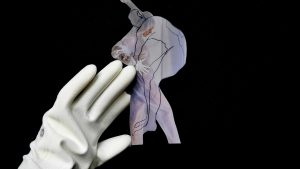 ANATOMY OF RIVER SMUGGLING / Alina Sokolova
opening 20th of September, 7 p.m
exhibition 21st – 3th of October
artist talk 2nd of October, 7 p.m
Exhibition "anatomy of river smuggling" of Vienna based artist Alina Sokolova revolves around her durational project based on bodies, experiences, and imagery of two European rivers – Tysa and Danube. The project consolidates the long-lasting entirety of a river with random processes taking place in its presence and examines the reciprocity of this relationship.
Arising from forgotten, yet valid, profession of "river smugglers" Sokolova combines found archivaltransaction records with images of re-enactments and poems. This results in a series of unique collages, which reconstruct the specificities of this particular profession dependent on river'spresence. She engages with questioning and deconstructing the mystified, romanticized, and (il)legally prescribed identity of particular rivers in her proximity as well as the theory of random waters flow.
"Consider smugglers' movements inside the water as polished as dancers' acts and their roles asthose of water performers. Smugglers, as performers, who exquisitely move on puzzled out trails inside her, who perform their dances, their business aims, knowing how to withstand the flow." In the series "smugglers' movement studies" drawings and photos are used as methods to abstract the most common position when being inside the river and "performing".
The exhibited sculpture contains water entities placed in an arbitrary way. Water/s that once belonged to the same Danube river, but were collected at three different cities, are randomlyarranged changing the natural chronological flow of the river's waters. The thread of the flowing river is disrupted as the river itself was taken out of its context and away form its linear, logical structure.

Garden of Metamorphosis / Anna Karina Brosch
Eröffnung am 19 Juli 2018 um 19 Uhr
performance um 20 Uhr
weitere Performances am 26. Juli und am 31. Juli jeweils um 20 Uhr
20 Juli – 10 August 2018
Die Ausstellung ,,Garden of Metamorphosis'' bietet einen Einblick in das Schaffen der in Wien lebenden Künstlerin und Performerin Anna Karina Brosch. Die ausgestellten Werke verschmelzen zu einer Multimedia-Installation, in welche die Künstlerin Ihre Erinnerungen und persönlichen Erfahrungen einfließen lässt. Dabei ist die Begegnung mit dem weitgehend aus dem Alltag verdrängten Phänomen Tod, als elementare Erfahrung, ein essentieller Teil ihrer Auseinandersetzung. Die daraus hervorgehenden, intimen Arbeiten erzählen von Verbundenheit, dem Mikrokosmos Familie, Verlust, Trauer sowie der Fragilität und Endlichkeit des menschlichen Lebens. In ihren Fotografien, Collagen, Objekten und Performances untersucht und reflektiert sie die komplexen Zusammenhänge dieser Themen. Die statische Installation wird im Rahmen der Ausstellung durch live Performances erweitert sowie belebt und fungiert während dieser Interventionen als Environment, in dem Brosch mit Video, Text und Sound experimentiert und weitere Ebenen der Reflexion kreiert. Facettenreiche, persönliche Sphären entstehen, in denen die Künstlerin das transformierende Potenzial der Performance-Kunst in Zusammenhang mit dem eigenen "Ich" erkundet.
Die erste Performance findet im Rahmen der Eröffnung am 19.Juli 2018 statt. Drei weitere Performances werden im Laufe der Ausstellung gezeigt.
Diese Ausstellung wird im Untergeschoss der Galerie Zigutamve gezeigt.
©Daniel Miller
FORBIDDEN WHISPERS. LAIBACH AND NORTH KOREA
opening on 28 June 2018 at 8PM
28 June – 31 July 2018
In August 2015, the musical group Laibach traveled to North Korea to perform at two consecutive concerts in Pyongyang as a part of the 70th anniversary of the liberation of the Korean Peninsula. A Norwegian film director, activist, and artist Morten Traavik made a documentary movie on the groups' visit entitled Liberation Day. The film later premiered at the beginning of 2017. Both the tour and the filming process produced a large number of additional photographs, of both documentary and artistic nature, a selection of which will be curated and presented at the Photon Gallery aimed at a European audience
This exhibition, however, goes far beyond the documentary footage from Laibach's tour and the filming process, in presenting works that depict the everyday and the mundane of the North Korean people, and the places they inhabit, containing otherwise rarely seen images. The country is not readably accessible and is particularly inhospitable for photographers, as strict permits are required for any such expedition in advance, with each shot then undergoing a thorough screening process. Albeit a tourist visiting the county on a tourist visa, all foreigners' movements and actions are subjected to scrutiny. Laibach and their team gently pushed the strict limits of control and censorship in their typically provocative fashion through several imaginative solutions, which produced a variety of original shots, which to this point have not yet been displayed.
An equal part of the exhibition is also dedicated to photographic work that was created in North Korea on other occasions under the strict regulation policies, hence the exhibition subtitle Laibach AND North Korea. The works by three artists are included, whose persistence and pragmatism in gaining the access to visit the country produced a plethora of photographs. These are the Slovenian photographer Matjaž Tančič, the Canadian author Nathalie Daoust, and Martin von den Driesch from Germany. Their projects encompass an original artistic approach to the subject matter and some inventive technical solutions in realization.
This exhibition is an production of Gallery Photon and gonna use both floors.
WHITE CONTAINS ALL COLORS
11th of may – 23th of june 2018
"weiss enthält alle farben" Group-Exhibition curated and organized by Zigutamve and gallery Photon
In this group exhibition, in which alienation is a central term, eight artists who live in Vienna approach this concept in diverse manners with their pieces. Through their work, our society's interactions and differences are deconstructed and partially brought to a layer, which practically indicates no differences.
We are being shown various approaches to this topic. Depictions are being questioned, which we often take for granted in everyday life, such that they seem inviolable. Society and its power relations, the way we know them today, were constructed via political and capitalistic markets of history. The accumulated reserves of a certain few, mainly effected via colonialism and slavery, have alienated the majority of people from their products.
Despite its not insignificant age, Marx's'societal criticism has not at all lost its actuality.
In this exhibition, the artists draw on both old photography techniques as well as on video and spatial installations.
Participating artists: Žarko Aleksić, blemija borovic, Olesya Kleymenova, Elena Kristofor, Christopher Mavrič, Ernst Miesgang, Dino Rekanović, Anna Vasof.
Curators: Dino Rekanović, blemija borovic
Artist Talk 12th of Jun / FB Event
Finissage 23th of June 8 p.m
FOLLOWING
3th of May – 9th of May
Group-Exhibition curated by FJU:
Images matter.
They connect people, stories and places.
One "follow" can lead to a whole new vision.
Following is a interactive exhibition and art market that highlighting the emerging art form of mobile photography, and the power of social media and smart phones as a means of creative expression and connection.
We've selected 12 artists and brands that are actively using Instagram platform to both connect with their audience and expand their practice in the digital realm.
We want to share this virtual relationship, transform and translate it into real-life connection.
EXHIBITION:
@mahreyoilic
@mafiamashi
@pinkosensitivsm
@sarajevorealism
@selman.selma
@thegramglam
ART MARKET:
@atelier_wanderlust
@makeme.ba
@_rahatlook
@tjt.accessories
@utopia_manufactory
@werkstatt_studio
OPENING: Thursday, 03.05.2018.
ART MARKET: 12h
EXHIBITION: 19h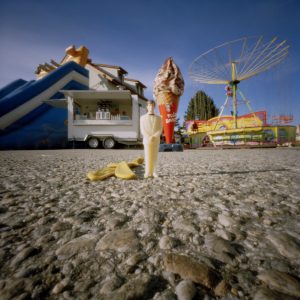 THE LITTLE WHITE MAN REPORTS
20th of April – 2nd of May
Pinhole Photography project by Peter Flanek
The Little White Man photo series draws upon the image of the well- groomed, history-making, heroic journalist, the anchor man. The traveling correspondent is the person who authenticates the events and places for us; he reports and records, and by putting himself in the foreground, he proves that he was actually there.
Opening | Donnerstag, 19. April 2018 | 19:00
Exhibition | 20. April – 02. May 2018
Regular opening times | Th – Fr 12:00 – 18:00 | Sa 11:00 – 14:00
Artist Talk | 28. April 2018 | 19:00

Es wird nicht ohne hässliche Bilder gehen / Kerstin Pfleger
5th of April – 18th of April
Die dramatische Entwicklung der Flüchtlingsbewegungen im Sommer 2015 hat große Mobilisierung gebracht und vielen auch ein Ohnmachtsgefühl angesichts globaler Entwicklungen vermittelt. Seit geraumer Zeit blicken wir auf Medienbilder und -berichte, die uns tagtäglich Tragödien frei Haus liefern. Sind wir angesichts dessen noch zu Empathie, Mitgefühl und daraus resultierendem Handeln fähig? Oder ziehen wir uns auf einen verschlossenen Standpunkt zurück, die sich vor uns ausbreitenden Statistiken mit Gefühllosigkeit betrachtend.
Die Arbeit "Es wird nicht ohne hässliche Bilder gehen" thematisiert ausgehend von internationalen Pressemitteilungen eine Bild- und Sprachlosigkeit, mit der wir als Beobachter dieser Schicksale an unseren Grenzen geschlagen sind.
Der Titel stammt von Sebastian Kurz, der diesen Ausspruch in einem Interview im Jänner 2016 als damaliger Außenminister in Reaktion auf die sogenannte "Flüchtlingskrise" getätigt hat.
Eröffnung | Donnerstag, 5. April 2018 | 19:00
Dauer | 6. – 18. April 2018
Öffnungszeiten | Di – Fr 12:00 – 18:00 | Sa 11:00 – 14:00
offene Gesprächsrunde | 11. April 2018 | 19:00
Im Rahmen der Ausstellung wird am 11. April um 19 Uhr eine offene Gesprächsrunde stattfinden:
Mit_Menschen
Angeblich ist unsere Welt so komplex, dass sie nicht mehr einfach zu durchschauen ist. Einiges beurteilen wir nur mehr anhand von Analysen und Prognosen. Besonders die Fluchtbewegungen in den letzten Jahren haben diese Distanz offenbart und eine große Diskussion über Zwischenmenschlichkeit entfacht. Dabei ist Menschsein kein Thema, das ein politisches oder ökonomisches Raster benötigt. Wir haben nur vieles verlernt. Jetzt zeigen sich Probleme, die schon lange Bruchstellen unserer Gesellschaft sind.
Nehmen wir diese Risse als Diskussionsgrundlage und Gelegenheit zur Weiterentwicklung. Wir sind gefordert und haben die Chance, ein neues Miteinander zu diskutieren. Was kann uns und unser Zusammenzuleben bereichern? Wie kann das einander fremd sein überwunden werden? Wir wollen Möglichkeiten aufzeigen, wie eine Zukunft abseits von Verrohung und Misstrauen aussehen kann.
Es diskutieren:
Clemens Foschi (Caritas, Projektleiter von Magdas Hotel und Initiator vieler anderer sozial-integrativer Projekte)
Monika Libisch (tätig in der Kinder- und Jugendarbeit sowohl im öffentlichen Raum als auch in diversen Einrichtungen)
Kerstin Pfleger (Fotografin und Juristin).

5 years of experimenting
22nd of March – 4th of April
The exhibition "5 years of experimenting" is going to show a cross section of 5 video works from a working period of 5 years.
Opening of the exhibition, thursday, 22nd of march at 7 p.m.
During the exhibition until the 4th of April, you can see following works:
– Waterish
– Blind through life
– Come back
– The second man
– Embodyment
About the artist:
Željko Jančić Zec
Visual, performing and media artist. Born in 1969, Rijeka (HR). He has been educated at the Amsterdamse Hogeschool voor de Kunsten, Netherlands.
He creates art in order to explore such issues as daily life, the human condition and the complexity of existence.
As a multimedia artist, he has performed and exhibited in Europe and America. He is a member of UPUH Croatia (Croatian Dancers Association) and of IG Freie Theaterarbeit (Austrian Association of Independent Theatre) and IG Bildende Kunst (Austrian Association of Independent Visual Arts). He founded the art association PART OF ART in Vienna and was Co-President of World Art Games (WAG) Austria. As a choreographer and director, he teaches dance, physical theater and drama.
history of past exhibitions are following soon!